Articles on Healthy Body Image
Eat by Choice this Holiday Season: Simple Ideas to Honor Your Needs Instead of Eating Them During the Holidays
By Jan Henrikson
What if your family clapped and cheered every time you grabbed dessert at a holiday gathering? With every spoonful of peppermint ice cream, you not only enjoy a burst of sugary flavor, but an instant sense of belonging. Stuffing yourself is as much a family tradition as watching "It's A Wonderful Life." So is waking up the next morning cursing yourself, vowing that at the next gathering you'll be "good."
The Food and Body Mambo: How Our Own Relationship with our Body and Food can Support or Hinder our Kids' Body Image and Eating Habits
By Jan Henrikson
You're watching TV with your preteen daughter. She's crunching away on potato chips while some commentators make fun of a former model who has gained 60 pounds, then chastise a super skinny celebrity for being anorexic. Weight is a tender topic. Your daughter has just gained a few pounds and you've heard her express less-than loving comments about her body. How do you support her in loving her own body while helping her to create lifelong healthy eating habits?
It's Not About the Food: Simple Steps to Meet Your Needs instead of Eating Them
By Jan Henrikson
So you're a Pig. Sound a little harsh? It is! Yet it doesn't compare to the way many of us heckle, shame, and rant at ourselves when it comes to food and our body. "I'm so fat, I can't stand it anymore. Why am I eating this bag of chips? Help! I'm hopeless." Repeat that kind of language every week for a few years and it feels like the truth. How much enthusiasm and cooperation can you expect from a body that is talked down to all the time?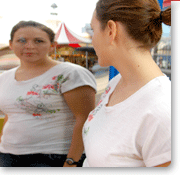 page with your favorite social network.